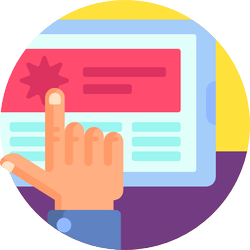 Social Ads
We create interesting ads that grab the attention of people who would be interested in your product or service, which can help increase your sales, generate leads, and make more people aware of your brand.
Google Local Services
We can help your brand be easily found on Google's local services and search results.
SEO Implementation
Search engine bots explore your blog posts, video, and podcast descriptions to find important words and phrases to organize your content. We'll help you make sure each piece of content is well-optimized.
Email List Lead Magnets
Your email list is valuable, but it can be hard to get people interested in signing up. We can assist you in making lead magnets that will attract more subscribers to your list.
Contest/Giveaways
Contests and giveaways can quickly boost your brand if you're a content creator. We'll help you take advantage of the increased interest by setting up your online marketing channels.
Retargeting
The internet is vast and it's easy to get distracted. We can assist you in creating Facebook (and Instagram) and email marketing campaigns that strategically display ads to your audience or potential customers, based on where they left off on your website.