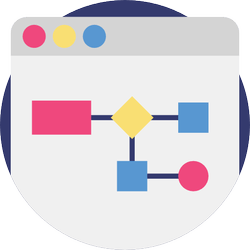 Purposeful processes and procedures.
Website Development
More than a glorified classified ad, your website is a fully functional marketing machine. We will work with you to help your vision come into fruition.
Website Management
Our focus is on content creators and your focus is on content. Let us maintain the dirty work of maintaining your website including maintaining security and keeping all the moving parts…moving.
Platform Integration
With hundreds of thousands of third party platforms and systems available to help you build and maintain your platform, finding ways to integrate them into your operations is an important piece of of your marketing strategy and we are here to help you each step of the way.
Qualitative Engagement
Your reviews and feedback are an important social proof to showcase. We will help you implement plans to both capture the social proof as well as showcase it across your various digital marketing channels.
Mailchimp Management
Your email marketing endeavors are extremely important. We can manage your brand's Mailchimp account from setup to engagement and everything in between.
CRM Management
Whether you are offering a product or a service, a customer relationship management (CRM) system is vital for tracking leads. We will help you setup your CRM and fully integrate your CRM into your WordPress.ORG website.